OUR PROTOCOL BEFORE PRESSURE WASHING THE BINS:
Trash Can Inspection
Before PWSOFBC professionals begin the cleaning process, each bin is checked for any remaining debris. If there is any trash left in your bin after your neighborhood trash collection process has been completed, we will bag it and place it back into your trash bin after our cleaning process has been completed.
Should we determine that too much trash has been left in your bin, we may have to skip it and return to clean it after your next scheduled pickup service. The next service may require double the effort as time elapsed will have allowed more bio debris to adhere to surfaces.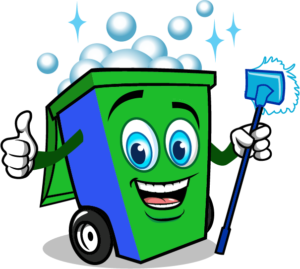 After the initial inspection, the container is turned upside down over our special wash unit where the pressure head rotates at high speed in all directions and effectively blasts any debris off the container removing everything in its path. Upon completion, the exterior surfaces are power washed, cleaned, and then the Pine Deodorant and Disinfectant is applied.
Frequently Asked Questions
BI-WEEKLY SERVICE
(every two weeks - recommended especially during "diaper years")
Highly maintained trash cans.
Our biweekly plan is great for residents who want the highest level of sanitation to a minimum level of odor, germs, and bacteria.

PRICE: $20/ first 2 cans + $8 each extra
MONTHLY SERVICE
(every four weeks - most common)
Maintained to a standard level of odor, germs, and bacteria.
Our monthly plan is designed to be affordable to maintain your garbage cans.
PRICE: $35/ first 2 cans + $9 each extra
ONE TIME ONLY
Maintained to a minimum level of odor, germs, and bacteria.
Designed for those rarely at home.
PRICE: $45 first 2 cans + $10 each extra
Property Management and HOA sales inquiries - with more than 6 cans (-10% discount)
Save $$$ hundreds of dollars on annual gutter cleaning.
These covers pay for themselves typically in one year.
Contact Us to Get A Quote!
Please contact us anytime! We look forward to hearing from you.
A NEW DECK AT A FRACTION OF THE COST
EXPERT CARPENTRY
Has your wood seen its better days?
If more than 40% of the wood is gone, then, there's a 99% chance that the underpinnings are still in excellent condition!
With the reskinning of all the horizontal surfaces, you can have a brand new deck at a fraction of the cost in a matter of only a few days..
Forget the hassle of needing a permit or increasing your taxes as this is considered maintenance by keeping the original structure and footprint.
Still have questions? Please contact us anytime! We look forward to hearing from you.